One type of flooring that may often be overlooked in homes is garage floors.
But as an area which has to withstand everything from oils and grease to chemicals and petroleum products as well as heavy loads, strong equipment and foot traffic, garage flooring needs to be long-lasting, hard-wearing and multi-functional…not an easy thing to ask of any flooring.
In addition, the type of flooring can have a serious impact on health and safety, presenting hazards from physical sources (such as pitted surfaces) to chemical ones. Thus, the choice of garage flooring is worthy of some serious consideration.
Types of Garage Flooring
Garage flooring can be as simple as basic concrete to more sophisticated forms such as specialised garage floor covers and mats, garage floor coating and roll-out floor covering.
For real luxury, you can even install Carpet or Specialised Tiling. There is also specialised high-end flooring made of rubber and vinyl interlocking tiles that can be custom-designed for your specific purposes with a suspended drainage system to deal with any chemical and oil spills.
Roll-out garage flooring is a popular choice: it is made of poly-vinyl rolled over the concrete subfloor and comes in a range of colours and styles as well as being easy to install and look after. It offers both protection and cushioning to the concrete floor underneath.
Garage floor mats can also give cushioning and protection, as well as being non-slip and easy to install as they do not require adhesive.
Another form of flooring is an interlocking garage flooring system (a bit similar to laminate flooring) which offers more stability but is also more expensive and harder to install.
Garage floor tiles are also popular as they are quick and easy to install. They produce a low maintenance and durable floor finish that helps to reduce dust problems and provides a comfortable work surface.
Available in a range of colours and textures, they are attractive and are used in both domestic and commercial garages.
Protecting your Garage Floor
Even if you just have basic concrete as your garage flooring, it is still worth considering painting it with a Protective Paint or Sealant.
Concrete is porous and stains easily and permanently, as well as being susceptible to pitting. Not only does painting protect the floor from oils and chemicals, and excessive wear and tear but it also prevents pitting which makes the floor easier to clean.
In the long run, you will not only protect your garage floor from stains and deterioration but also save yourself money as it will reduce the need for repairs. In fact, a freshly painted garage floor can significantly enhance the value of your home.
A huge variety of products are available on the market these days to give your garage floors a custom finish which will resist dirt, oil, water, grease and other contaminants.
Repainting your garage floor is a manageable DIY project that can reap big rewards. However, remember to prepare the surface carefully, removing all traces of dirt and debris as this will produce a bumpy paint-surface.
Remove also, any oil stains using degreasing products and repair any minor cracks and pits in the surface. Time spent in preparation is well-spent as this results in a long-lasting paint job.
Make sure you use epoxy paint that is specifically formulated for garage floors as this is the only type of paint which can withstand the heat of vehicle tyres and also act as a sealant.
Lastly, remember to keep the area well-ventilated and to wear eye and skin protection when handling caustic chemicals.
Don't rush to put your car back in the garage – make sure that the topcoat is completely dry otherwise you will end up with tyre marks which will damage the floor surface.
A good paint job should last several years but you may need to do occasional touch-ups in the heavy-traffic areas of the garage floor every year. Once sealed and painted over, all you need to keep things clean is a regular mop with a solution of ammonia and water.
Be careful of using a soap-based cleaner as this can make the floor dangerously slippery when wet. To make things even safer, you can add a non-slip additive to the epoxy paint.
In Conclusion…
Investing in your garage floor does not necessarily mean expensive fancy flooring but rather assessing your needs and choosing a flooring type that fits those needs.
Remember that many people nowadays do not park their cars in the garages but rather use them for storage and workshops.
Good garage flooring will not only make your life easier and safer but will also enhance the value and appearance of your home.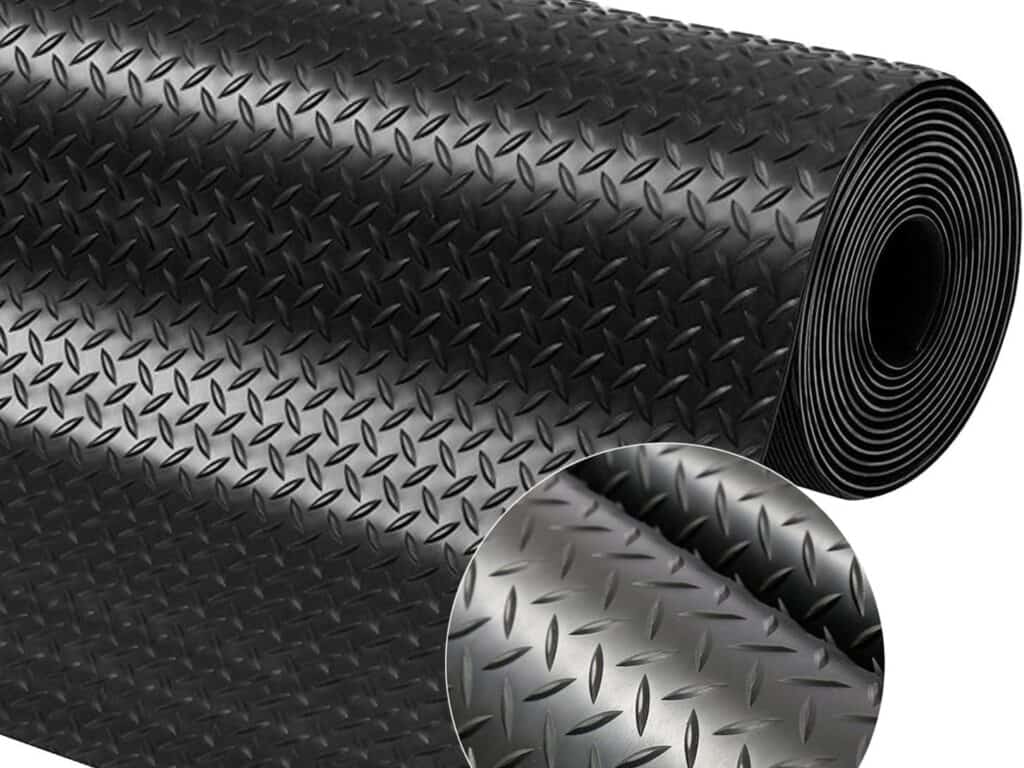 Non-Slip Flooring
Rubber matting and non-slip flooring materials…