Whether you have small children or elderly relatives who have mobility issues, or you just have a very busy household, you may wish to consider non-slip flooring. Bathrooms and kitchens, as well as entrances to the property that are likely to become wet when people are coming and going in bad weather, are all potential hazards.
While you are considering non-slip flooring for the interior of your home you might also wish to consider outdoor areas. Decking and balconies can be lethal, for example, after rain or snow, or once they start to weather a little.
Certainly if you are running a commercial outfit, it is essential for reasons of health and safety that you do all you can to make sure both your employees and your visitors are safe as they move about within your space.
Creating a non-slip floor can be tackled in a number of different ways. You may wish to install flooring that is already marketed as being 'non-slip' or you might decide to add a non-slip coating or finish to a floor you have already laid in your home or place of work.
Starting From the Beginning
Firstly, before you lay any flooring of any kind, check with the manufacturer as to whether or not it is marketed as being non-slip.
Stair carpets, Kitchen and Bathroom Flooring etc. should all be well labelled and your supplier should be able to give you a good idea of which product is suitable for which location.
If you are flooring a bathroom, non-slip ceramic tiles or cork products are available. Likewise, similar products could work well in the kitchen.
Consider Carpeting
Most Carpets are unlikely to cause a problem with slipping but you do need to consider them on the stairs. Some products, such as many of those made from natural materials, are unlikely to be considered unsuitable for stairs as they do pose a danger.
If you are dead set on having a natural flooring on your staircase, then there are some options – but do your research carefully.
Finishing the Job
Once you have chosen your flooring, you can then consider whether you need to bring in any additional non-slip products or finishes. Hard surfaces are likely to be those that need to be given additional non-slip treatments.
If you have a contemporary Concrete Floor in a hall, for example, it might look fabulous once it has been polished up, but you really ought to finish it with some kind of heavy duty epoxy resin product that will prevent people from sliding as they move about.
There are now also treatments that will work well in a bathroom or kitchen. Some specialist treatments can even be carried out on natural slate and stone. Most of these are long-lasting but will still need to be repeated every couple of years.
To make a hard flooring in the kitchen or bathroom non-slip in the short-term, there are some sprays available. But, again, check the label to make sure they are suitable for your material.
Flooring Accessories
Once you have completed the flooring of your property you might wish to bring in other non-slip flooring accessories.
Add non-slip matting to hazardous areas in the bathroom, for example – by showers, baths and sinks. Try the same in the kitchen and by the back door.
Put slip resistant markers on steps and stairs, and add grip slips to outdoor areas, such as balconies and decks to render them safer as well.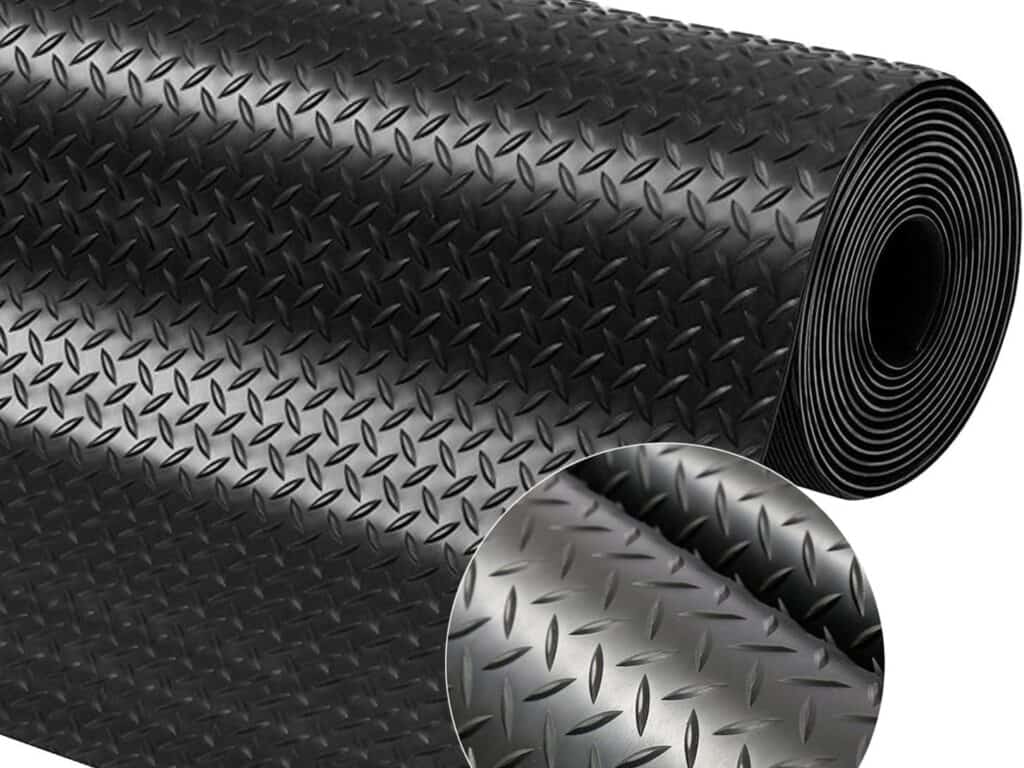 Non-Slip Flooring
Rubber matting and non-slip flooring materials…